June 10, 2009
11-Year Old Graduates With Top Honors
Reading Level
Listen to Article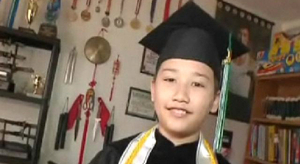 Most 11-year-olds are just happy to have survived their first year of junior high. However, Moshe Kai Cavalin is not like most kids. He skipped elementary, middle and high school and went straight to college at the tender age of eight.
While Moshe's parents knew he was smart, they had never envisioned putting him in college this young. However, when they tried to enroll him in a private school at the age of 6, he was turned down, because he was so smart and the school was afraid he would be bored.
It turns out they were right - After homeschooling the young lad for two years, the parents realized that he was ready for some real high-level courses. They approached East Los Angeles college, who agreed to take him in. However, until he proved himself, he could take only two courses - Math and Physical Education.
Moshe did not disappoint. He got A-pluses in both and hasn't looked back since. Later this week, Moshe will graduate with an Associates Degree in Liberal Arts with a 4.0 Grade Point Average. In fact, the young lad was so smart that he helped tutor his fellow math students, some of whom were a decade older than him.
While the world may hail him as a genius, his parents think he is just a typical boy who likes to play soccer and watche Jackie Chan movies.
Moshe now hopes to get into a prestigious four-year program and graduate in Astrophysics. However, before that, he is planning to take a little 'break' to pursue his other passion - Martial Arts, where he has won quite a few medals. He also intends to write a book to teach kids how to succeed in school and take scuba diving lessons.
Sources: nbclosangeles.com,topix.com,chicagotriibune.com