November 26, 2007
Elephant Orphanage In Kenya, Africa
Reading Level
Listen to Article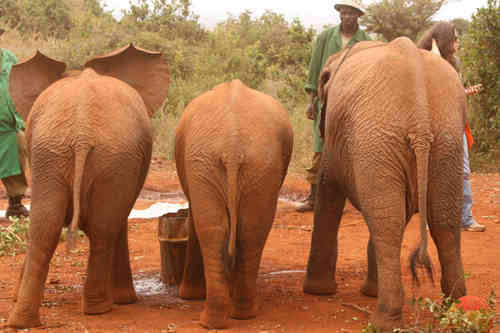 Built over 30 years ago, by the David Sheldrick Wildlife Trust, this orphanage takes care of baby elephants, whose mothers have either abandoned them or have been killed by poachers.
The orphanage was founded by Daphne Sheldrick, after the death of her husband David Sheldrick, a big anti-poaching crusader. Daphne's vision was to try to save as many elephants as possible. Back then, Kenya had almost 100,000 elephants. Currently, however, thanks to continued illegal poaching, the numbers have dwindled, to around 25,000.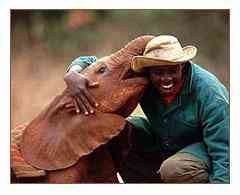 The baby elephants come to the orphanage from all over the country. Whenever the orphanage gets a call of a baby elephant sighting they rush to the area, often via an airplane to pick it up. This is because baby elephants can survive for only a few days without their mother and hence have to be rescued as soon as possible.
Once the orphan arrives, they are well taken care of. Each elephant gets its own private room but has to share the shower and dining hall with other elephants. They are also fed with special formula milk. Once they are settled in, they are introduced to the rest of the elephants in the orphanage. Daphne thinks this is critical in making the new orphan feel safe and secure.
Each baby is also assigned a keeper, who becomes its surrogate mom. These keepers spend 24 hours with their "babies" feeding them, keeping them warm, playing with them (elephants love soccer), giving them coconut oil massages and even sleeping next to them.
Like any good parent, the keepers also teach the baby elephants good manners, to respect each other and most importantly, how to be independent and be able to survive in the wild. One of the things they are taught is how to spray themselves with mud to avoid sunburn.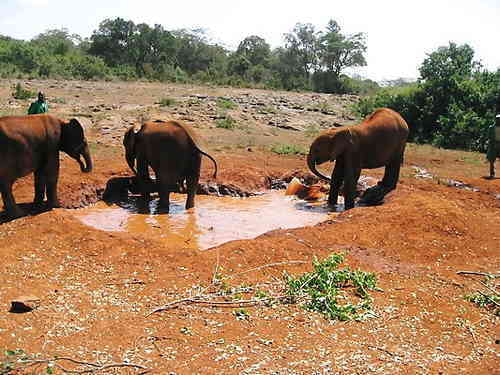 Once they are ready and able, the elephants are expected to go back to the wild and live an ordinary life. However, even when they are willing, they are not sent directly into the wild - that would be too traumatic (scary). They are first sent to Kenya's largest National Park, Tsavo National Park. While the environment (surroundings) here is controlled, the elephants have to find their own food and milk. They also meet elephants that are much older and not as gentle. The elephants stay here as long as they wish, and then one day, without any formal goodbyes - they leave for the wild to resume a normal life.
Despite such good care, the orphanage loses a lot of the young elephants, either due to illnesses or because the elephants are traumatized by the death of their mother. Still the orphanage has managed to save over 74 lives since it was founded. Daphne also takes in baby rhinos and other wild baby animals that need care. For more info on this orphanage and how you can help go to www.sheldrickwildlifetrust.org
www.sheldrickwildlifetrust.org, wikipedia.org